What You Need To Know About Broken Wisdom Tooth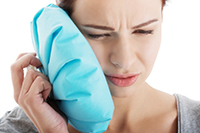 Although your third molars are the last of your teeth to erupt, they are still vulnerable to cavities and other forms of damage, just like the rest of your teeth. Hence, if you have fractured wisdom teeth, the cause might be one of many different things. If you discover that your wisdom teeth are fractured, you could experience a state of terror. Your dentist, on the other hand, should be able to assist you in restoring your oral health. As a result, the first thing you must do is make an appointment to get treatment at your dentist's office.


All You Need To Know About Broken Wisdom Teeth

There are several potential causes for damaged wisdom teeth, including decay and the tooth's angle. The third molar cannot fit in your mouth because there is not enough room for it, and another tooth is filling it. Consequently, your wisdom teeth will develop at an abnormal angle and may even shatter when it emerges.

Your wisdom tooth may crack for several reasons, the most common of which are that an adjacent molar is already present in the space that should be occupied by your wisdom tooth's eruption or that your wisdom tooth is developing at an abnormal angle. In addition, the third molar suffered an injury before its eruption, leading to its subsequent fracture.

A wisdom tooth chipped or fractured is at an increased risk for decay and infection. It might be challenging to thoroughly clean one's wisdom teeth because of the position of these molars. This allows germs and food particles to accumulate around the molar.


Get In touch With Us

Taking good care of your teeth and gums today will pay dividends for the rest of your life. Don't put off taking care of your teeth any longer; call our dental office now to schedule an appointment.