Are Your Wisdom Teeth Coming In?
Posted on 12/8/2019 by Mountain State Oral and Facial Surgery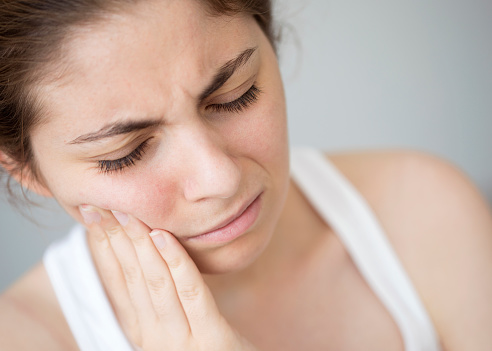 Wisdom teeth removal has become almost like a rite of passage for many teenagers and young adults, although older adults have also dealt with the hassle of their third molars trying to grow in. While not everyone has complications with their wisdom teeth, your dentist or oral surgeon may recommend an extraction to avoid an even more painful removal down the road. Whether you want your child to have a smooth recovery before school starts or you find yourself dealing with this issue later in life, here are the primary signs and symptoms that your wisdom teeth are coming through.


Jaw Pain and Stiffness

Have you experienced any pain while opening your mouth recently, or find it difficult to close your mouth or chew? This is a common symptom along with feeling pain near the back of your mouth where your third molars are located.

Why does this happen? As your wisdom teeth come in, or erupt, they can push against your other teeth. Since the mouth and jaw can't accommodate these extra teeth, they can come in sideways, tilted or misaligned in the jaw, pressing up against the teeth in front of them. Teeth that are stuck beneath the surface of your gums are referred to as impacted. This in turn can cause discomfort in your jaw, so it feels stiff, sore and difficult to open. This eruption can also cause swelling in both the gums, the back of the mouth, or on the side of the jaw. A common reason people put off wisdom tooth extraction is that these impacted teeth don't always cause immediate pain. Tooth pain can start as a mild irritant that might subside after a few days, but with your tooth pressing on the nerves of the mouth, you can expect further swelling and pain. While some patients might deal with intermittent pain over months and even years, a clear indicator of an erupted tooth is that the pain magnifies over time.


Cavities and Tooth Decay

Impacted teeth can also lead to cavities and tooth decay. If these erupting teeth push on the neighboring molar, this can lead to tooth movement, which leaves gaps and spaces between our teeth that cannot be easily cleaned while brushing. This opening can leave room for food and bacteria to collect, which eventually can cause cavities in your teeth.

Teeth that have broken through the gums enough to be visible are referred to as partially impacted wisdom teeth. These partly submerged teeth make it easy for food to get trapped between the gums and require meticulous cleaning to avoid infection. Cavities can emerge from food getting trapped in the gums around the third molars, but teeth in front of the third molars can get cavities as well.
Another sign your wisdom teeth are coming through is bad breath and an unpleasant taste in your mouth. The gums surrounding the erupting teeth are easily infected, and the harmful bacteria releases sulphur compounds with a smell that leaves a lot to be desired.


Headaches and Sinus Issues

Earaches and headaches may occur when wisdom teeth erupt due to insufficient room in the mouth. Pressure can build up around the surrounding teeth and tissues, causing significant pain in the mouth and affecting the nerves that can trigger a headache. If you're experiencing chronic headaches, then pinpointing swelled areas in your mouth can give you an indication that impacted teeth might be the culprit.
You may also be able to tell if your wisdom teeth are coming through if you experience sinus pain, congestion, and pressure, especially in the upper jaw area. The wisdom teeth in the upper back jaw are close to the sinuses located behind the nose. This means that when your wisdom teeth start to grow in this can put pressure on your sinuses, which leads to headaches and infections.


Cysts and Jaw Tumors

On a more severe level, ignored wisdom teeth can result in cysts and jaw tumors. Cysts consist of a closed sac of tissues that can be filled with air, fluid, or a semi-solid material. These sacs develop within jawbone or soft tissue and can form over the top of an erupted or partially erupted tooth. While jaw tumors, like cysts, are often benign, their growth can invade the surrounding bone, damaging the nerves of teeth as well as displacing them, and leading to infection if untreated.


Be Proactive About Treatment

While not everyone has to deal with wisdom teeth, for those who do the pain and risk to oral hygiene makes extraction non-negotiable. If you have any concerns about your or your child's wisdom teeth coming through, then we advise you to reach out to your dentist or oral surgeon as soon as possible. If you're interested in a consultation, please reach out to our office and we would be happy to discuss the best treatment option for you.