Salivary Gland Infection: What It Is and How We Treat It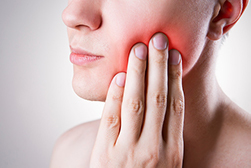 Like most other parts of your body, your salivary glands can become infected. Salivary gland infections most commonly affect the elderly and chronically ill people, but anyone is at risk. Read on to learn more about the causes, symptoms, and treatment of salivary gland infections.


What Causes a Salivary Gland Infection?

As with other infections, a salivary gland infection is typically the result of bacteria, especially Staphylococcus aureus bacteria. However, viruses and fungi can sometimes cause salivary gland infections as well. Having a dry mouth (reduced saliva production) increases your chances of developing a salivary gland infection. Reduced saliva production can result from certain medications and medical conditions, tobacco use, dehydration, excessive alcohol consumption, or a salivary gland blockage, such as a salivary stone.


Symptoms of a Salivary Gland Infection

An infected salivary gland can cause a number of uncomfortable symptoms. Some of the most common symptoms include redness and swelling of your cheeks or jaw, pain, a bad taste in your mouth, difficulty chewing or opening your mouth, and pus drainage in your mouth. You should seek treatment if you develop any of these symptoms. If a fever, chills, or difficulty breathing accompanies your other symptoms, this could be a sign that the infection is spreading, which can potentially be life-threatening.


How Are Salivary Gland Infections Treated?

Since a salivary gland infection can spread to other parts of your body, it is important to get treated right away to prevent serious complications. The exact treatment for a salivary gland infection depends on the severity of the infection. Generally, treatment involves antibiotics and increased hydration to stimulate saliva production. For more severe infections or recurring infections, surgery may be necessary. Surgery for a salivary gland infection might involve removing a blockage such as a tumor or salivary stone or removing a small part of the salivary gland. If you think you have a salivary gland infection, contact us right away.