Understanding TMJ and What Can Cause the Flare-Ups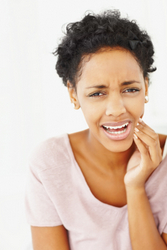 Temporomandibular disorder can disrupt your life by causing pain and discomfort. This is because it affects the jaw muscles, which you use daily for everyday functions such as chewing and talking. The common TMJ symptoms are difficult to diagnose since they mimic other diseases. These symptoms may also flare up over time due to specific triggers and can overwhelm the patient. However, with proper diagnosis and treatment, TMJ is manageable.


Symptoms of TMJ Flare Ups

A TMJ flare-up occurs when the current symptoms worsen, or a new symptom pops up. Recognizing these symptoms early enough can help you manage them to minimize the severity and duration they last. Some of the TMJ flare-up symptoms include mild or severe pain on the jaw joint, migraine, jaw clicking, or popping when you eat or open your mouth, ear, neck, and shoulder pain. You may also experience jaw tightness or swelling around the jaw and facial muscles in severe cases.


Causes of TMJ Flare-Ups

TMJ flare-ups occur due to changes in hormones, stress, eating chewy foods, and muscle strain. Stress causes teeth grinding, which puts pressure on the TMJ and facial muscles, causing a flare-up. Increased estrogen levels from using birth control pills can also aggravate TMJ. Muscle strain from chewing hard and chewy food or a poor posture can also flare up TMJ. Other factors that may trigger TMJ pain include certain medications, vitamin deficiency, and dehydration.


Managing TMJ Flare-Ups

If you experience TMJ flare-up, you should identify the trigger and avoid it as much as possible. Among the things, you can do to manage TMJ flare-ups include eliminating hard foods, drinking a lot of water, and stretching strained muscles through simple exercises. Other options include myofascial massage therapy to relax tensed muscles, physical therapy, and acupuncture. For more details on TMJ flare up and management, contact our office today.