Do You Know What Symptoms Accompany an Oral Infection?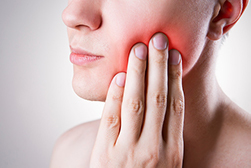 Oral infections can develop anywhere in your mouth, from the cheeks, palate, lips, within your teeth, and tongue, among other areas. Therefore, it is very important that you pay attention to your dental health to avoid oral infections. In most cases, oral infections below or within a tooth can be caused by decay or a fractured tooth that spreads the infection to your pulp. The pulp is the part of your tooth that contains connective tissues, blood vessels, and large nerves. In case the infection reaches your tooth pulp, bacteria can easily move out of the affected tooth to other surrounding teeth and tissues. Symptoms that accompany an oral infection include bleeding, sore gums, mouth and jaw pain, and loose or lost teeth.


Bleeding and Sore Gums

When your gums ache or bleed, you could be having an oral infection. Bleeding gums are associated with gum disease, which is an oral infection that gets worse if not treated. This condition is often severe in patients with underlying conditions such as diabetes. Such underlying conditions tend to reduce the body's resistance against bacteria and infections. Gum disease puts your gums at risk of inflammation due to bacteria present in plaque.


Mouth and Jaw Pain

Combined with symptoms like sore muscles, jaw and pain mouth are often signs of an oral infection. Various oral infections can lead to mouth and jaw pain, with sinus problems and gum disease being the most common. Therefore, if you experience a painful mouth or jaw, visit our offices right away.


Loose or Lost Teeth

When you have loose teeth, you could be having an oral infection. In most cases, teeth may fall out or move due to advanced gum disease. Besides, tooth loss could be an indicator of early stages of osteoporosis, a condition that weakens your bones and decreases bone density. This can be a serious oral infection if left untreated. Visit our offices for more information on the symptoms of oral infections and how to manage them.