What Can Happen If You Brush More than the Recommended Daily Amount?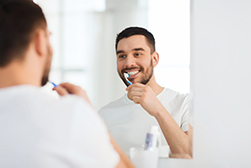 If you are conscious about your oral health, you probably brush your teeth at least twice a day. You may also find it necessary to brush your teeth after every meal, keeping in mind that it gets rid of stuck food particles and prevents decay. However, can you brush your teeth excessively? Over-brushing your teeth refers to both "how much" and "how" you brush them. Vigorous or compulsive brushing can cause oral health problems that have several effects on your teeth. Here are the dangers of brushing your teeth excessively.


Gum Recession

Persistent improper and overzealous brushing will cause gum recession. When this happens, the dentin is exposed. With exposed dentin, you are more likely to experience sensitivity when drinking hot or cold drinks. Gum recession could also lead to conditions like tooth decay.


Tooth Abrasion

When you brush your teeth too many times, you can cause tooth abrasion. This refers to the wearing off of the tooth structure due to excessive pressure. The vigorous use of your toothbrush will gradually wear off the tooth enamel and expose the softer dentin beneath.


Bleeding Gums and Sensitivity

This is a common effect of excessive brushing. Once the enamel is damaged, you will experience sensitivity due to exposed dentin. Your gums will also bleed because excessive brushing will tear down the gum tissue.


Dental Cracks

There are high chances of getting dental cracks if you brush aggressively and vigorously. As much as the enamel is the hardest tissue in your body, it can crack due to excessive pressure. Dental cracks can be quite uncomfortable to deal with. You could have challenges when chewing food or speaking. This is why you should always brush your teeth gently using a soft-bristled toothbrush. Visit our offices for more information on the effects of brushing too often.