Why Should I Have Wisdom Teeth Removed?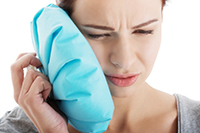 The most common question among dental patients is whether they need to remove wisdom teeth. Wisdom teeth do not hurt, so what is the point of removing them? Nowadays, scheduling oral surgery with a dentist to remove wisdom teeth is a rite of passage for many young adults. It is important to seek professional advice before proceeding with removal to ensure you have all the facts and peace of mind.


Preventive Efforts

Rarely are wisdom teeth a source of discomfort or pain, but that doesn't mean everything is in tip-top condition. The teeth can be impacted or stuck, making them susceptible to breaking and causing damage to the jaw and mouth. In some cases, the mouth is too small, and there's no room for all the teeth, forcing them to grow at an angle that compromises the surrounding teeth.

If this is the case, it may be time you consider visiting a dental professional. Some dentists opt to remove healthy molars to mitigate problems in the future. Routine dental appointments ensure the problem is detected early rather than discovered later when irreversible damage occurs. Procrastinating a dentist appointment can lead to post-surgery complications such as fractured teeth and heavy bleeding.


When is Removal Needed?

During dental checkups, the dentist can determine if there's a need for wisdom teeth removal and even suggest an X-ray down the line for a comprehensive and informed decision. Some reasons to take out wisdom teeth are if they cause cavities, jaw damage, alignment problems, sinus issues and damage to healthy teeth.

Before a decision is made, the dentist will look at the shape of your mouth, the position of your teeth and your age to make a decision. Contact a professional for pertinent information and guidance if you need information before booking an appointment to remove wisdom teeth.