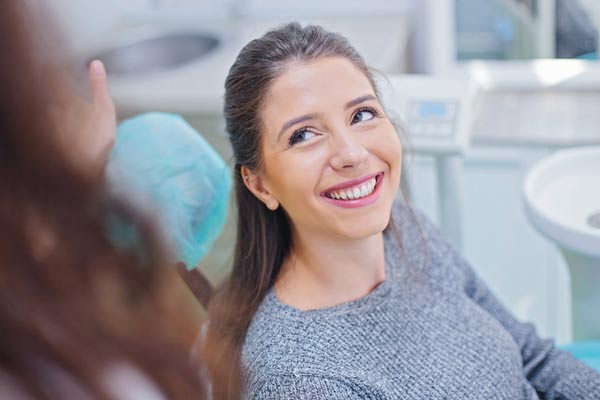 We invite you to learn more about dental implants and how they can improve your oral health when you have missing teeth! Our team at Mountain State Oral and Facial Surgery is excited to share information about this highly successful restoration with you. If you are missing one, several, or even all of your teeth, dental implants are for you.


What are Dental Implants?
Dental Implants are implanted devices we use to restore the root of a missing tooth. Once we have reestablished a new root, we can then use it as a solid post in your mouth to secure a dental prosthodontic, including a dental crown, bridge or denture. A dental implant is shaped similarly to a screw, it is a metal or ceramic post with a threaded end and a connecting head. We sink the threaded end into the jawbone at the location of the missing tooth. Once the bone has healed and grown up around the threads, we can then secure a device permanently to it. This means that you can have a fully restored tooth that not only looks real but functions and feels as natural as your other teeth.
Why Should I Restore Missing Teeth?
Many patients assume that some amount of missing teeth is not only acceptable, but normal, especially as they age. Dentistry is still a somewhat new science that has evolved a lot over the past century. The growth and understanding of dentistry has been fast for some patients who are used to past ideas and information.

Today, we understand so much more about missing teeth and how they are damaging to your oral health. We want to prevent negative effects including bone loss, teeth movement, adjustments to your bite, and adjustments to how or what you can chew.
What Options are there in Dental Implants?
Dental implants have options including the material we use, the length and size that are needed, and which prosthodontic is being used. Dental implants are available in both a metallic titanium and a non-metal reactive ceramic material. We can use ceramic implants for patients who have a sensitivity to metal, or are having implants placed in a more visible location such as the front teeth. This can help hide the dark metal coloring from showing beneath the skin.

In addition to materials, implants come in a variety of lengths and widths to accommodate the work that is being completed. We are happy to review mini implants, standard implants, and longer implants that are used to retain a full arch bridge. In addition to options with the implant, there are options in what we can do with the implant, or multiple implants when needed. We can restore a single tooth with a dental crown, we can use an implant to serve as one or both anchors for a dental bridge, or we can even restore all of your teeth with multiple denture options including a full arch bridge, or other implant retained dentures.
What is the Implant Procedure?
Having a dental implant placed is a minimally invasive surgical procedure that we can perform in our office. It is generally done with simply a local anesthetic, though we do have multiple conscious sedatives available if needed. Much of the work is completed in the planning phase of your implant procedure. We would have helped you gain control of any active bacterial infections, removed any unhealthy teeth, and for many of our patients even helped them grow new bone with a bone graft procedure.

Dental implants are sunk into your jawbone, so if teeth had already been missing, we assume the bone has atrophied or shrunk through sorption. Once all of the preparatory work is completed, placing the implant is fast. We begin with helping our patient be comfortable with a local anesthetic.

We then open the gum tissue to reveal the bone beneath. We use a specialized dental drill to make space in the bone, and insert the implant. The tissue is then sutured closed and the patient is sent home for a period of time to heal. You will find that your soft gum tissue heals quickly, in a matter of days, but the bone tissue takes much longer to heal, possibly even six months. As the bone heals, it grows around the implant fusing the two firmly together. Once healed, we can then add the prosthodontic that was planned before the implant was placed.
What are Clear Choice Implants?
Clear Choice implants is an option for dental implants that are surgically placed with the prosthodontic all in one day. This system utilizes an overdenture with four dental implants. This means that a patient can have a full set of teeth surgically placed in one day. The dentures stay in place with a permanent hold.
Can I get dental implants?



The placement of dental implants is approved for most of our patients. The biggest criteria is the ability to heal appropriately. This means that many of our medically delicate patients are approved. When deciding on candidacy for implant surgery, we are looking for reasons that a person may not heal timely, this may include medications they are taking, certain medical conditions and some daily habits.



For more information about dental implants, contact our Kanawha City, WV office at: (681) 317-7033.

Our office is proud to offer other restorative procedures including wisdom tooth removal!