Dental Implant Materials

Charleston, WV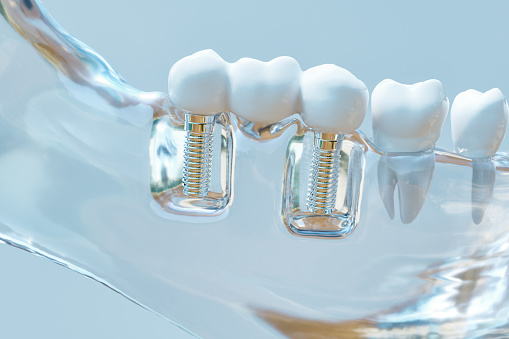 Dental implants are a popular tooth replacement procedure. They are the best, most versatile equipment for restorative dentistry practices. Dental implants help replace missing teeth and restore the aesthetics and functionality of your smile. Compared to other tooth replacement options, dental implants are a little costly, which is why patients often have many questions before they proceed onto getting implants. One of the most common questions concerning dental implants is regarding what they are made of.


Dental Implant Materials

For decades, most dental implants have been created from a single material – titanium. However, technological advances have led to the creation of implants from many other materials. These materials have been selected after thorough and extensive research considering their chemical and physical properties that impact their clinical applications. A dental implant material should preferably be biocompatible and resistant to fracturing and corrosion. Here are the two most common types of dental implant materials used today.


Titanium

Titanium is a metal that is regarded as the most common dental implant material. This metal was discovered as the ideal choice for dental implants in 1950 due to its special characteristic – its biocompatibility, which allows it to bind and grow with the jawbone. From the time of its discovery until now, titanium has been the most popular dental implant material. Not only has it proven to be highly durable, but it is also quite reasonable.


Zirconia

Zirconia is a relatively newer material compared to titanium. It has shown quite a promising future in the field of dental implants. Zirconia dental implants started being used in the early 1990s, but it was not until 2003 that all-in-one zirconia crowns were introduced.


Are Some Dental Implant Materials More Preferable Over Others?

The two main dental implant materials are titanium and zirconia, both of which have their own unique characteristics. Titanium has proven to provide a high success rate in all dental procedures. In fact, the biocompatibility of titanium allows it to be used in various medical procedures as well. It's this versatility that sets it apart from zirconia. A titanium dental implant can be produced in a two piece system that entails the abutment sitting on top of the implant while connected to the replacement tooth. On the other hand, zirconia is manufactured in a single piece, which makes it devoid of this capability. Also, titanium is considered to be the top choice for dental implant material due to its biocompatibility, which makes it the closest option to match the human body, allowing it to fuse with the human bone.


The Bottom Line

All in all, titanium is the most sought-after dental implant material due to its unique qualities and great durability. If you are looking for more options, then you should certainly consult a dentist for the best dental solutions.

Here at Mountain State Oral and Facial Surgery, we offer premium dental services for all of your dental needs. Whether you're planning to get dental implants or any other dental treatment or procedure, we're here for you! Schedule a consultation with us by calling us at 304-343-5161.