Why Wisdom Teeth Removal Is A Great Gift For Teenagers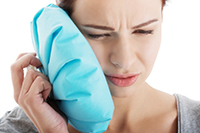 You perhaps know the saying, "if it ain't broke, do not fix it." Many patients would ask why you have to mess with wisdom teeth if it does not seem to cause any problems. However, the reality is that teens need to get their wisdom teeth extracted even if they are not bothering them.


What are Wisdom Teeth?

The last teeth to erupt are known as wisdom teeth. They come in when you are between 15 and 18 years old. Other teeth erupt by the time you are 12. Often, those final sets of molars are not the problem but what happens if they are left to stay in the mouth.

It is pretty common to have wisdom teeth impacted. This happens when they don't come in fully through the gums because the other teeth have already taken all the available space. If you wait to have the wisdom teeth extracted, you may experience many problems. You may develop hard-to-clean pockets within the gum tissue. Deep openings around the teeth may also develop, creating an ideal breeding area for bacteria. Gum disease, decay, infection, or even bone loss are possible outcomes if bacteria are allowed to have a hay day in the difficult-to-clean areas such as around the wisdom teeth.

Besides the problem of impaction, there are other issues that may arise when wisdom teeth aren't extracted early enough. You may experience painful jaw and headaches. You may also have issues with bite alignment because wisdom teeth push the other teeth. Your oral hygiene is compromised because you find it difficult to clean the areas around the wisdom teeth.

Don't wait any longer to get wisdom teeth removed. Schedule your consultation today to have our Oral & Maxillofacial team examine you for wisdom tooth extraction before it's too late. You should have these teeth removed by the time you hit 26 years.