Signs Your Oral Surgery Site Is Bleeding Too Much and What to Do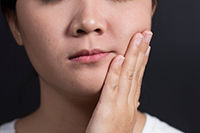 After a minor or major oral surgery, it is normal to bleed during and after the procedure, but the bleeding should stop later the same day. After that, a clot will form in the surgery site, preventing further bleeding. To control the bleeding, we will also give you a gauze. You should not worry if your gauze contains blood even after the bleeding stops. To keep your mouth clean, you should change your gauze after 30 to 45minutes.


Signs of Excessive Bleeding After Oral Surgery

After dental surgery, it is normal to experience bleeding in the first 24 hours, after which a clot will form, and the bleeding will stop. To prevent bleeding, we encourage you to avoid rinsing your mouth for the first 24hours, avoid using straws, and stop smoking, as these may dislodge your blood clot and cause excessive bleeding. If you exercise regularly, you will need to pause your schedule, as exercising causes increased blood pressure, increasing bleeding. If, after observing these rules, and your wound is still oozing blood, or you cannot speak or eat with ease, it could indicate an abnormality, and you should contact us immediately. Excessive bleeding could be due to a systemic disease or the side effect of certain medications. Therefore, seeking medical attention is necessary to avoid losing too much blood.


What We Will Do

We will examine your surgery wound during your appointments to see whether there is any dislodged clot and use adhesives to stop the bleeding. If your bleeding results from specific medication that affects blood clotting, we will prescribe an alternative. We will also check for underlying medical conditions that may interfere with blood clotting and administer treatment. For more details on bleeding after oral surgery, contact our office today.