When Should You Consider All-on-4 to Correct Your Smile?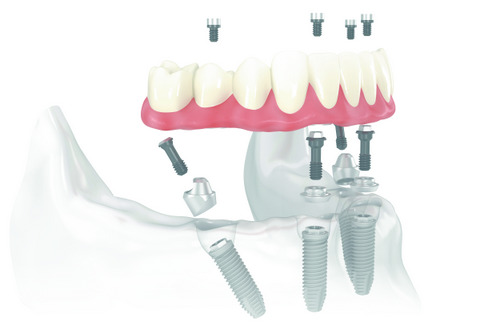 Are you missing a full arch of teeth, or even all of your teeth? If you are interested in an alternative to traditional dentures, the all-on-4 treatment concept could be right for you. Read on to learn more about the all-on-4 method and how it can restore your smile.


What Is All-on-4?

All-on-4 is a way of stabilizing a set of dentures using dental implants. This restoration involves inserting implants through a denture and into your jaw, permanently securing the denture in place. As the name suggests, the all-on-4 concept usually consists of four implants supporting an entire arch of teeth, although sometimes up to six implants are used per arch. All-on-4 can be used to restore the upper arch, lower arch, or even an entire set of teeth.


Is All-on-4 Right For Me?

Anyone who is missing a full arch or both arches of teeth can benefit from the all-on-4 treatment concept. Whether you have worn dentures for years and want a more comfortable alternative, or you recently suffered a traumatic injury that resulted in many missing teeth, all-on-4 could be the ideal solution for you. Unlike traditional removable dentures, which can slip around in your mouth and stop fitting properly as your jaw changes shape, implant-supported dentures are permanently secured in your mouth and help prevent jawbone deterioration. Traditional dentures need to be removed at night for cleaning, they can be uncomfortable to speak and eat with, and they sometimes cause sores on your gums. In contrast, implant-supported dentures can be cleaned just like your natural teeth, they are far more comfortable than traditional dentures, and they allow you to eat and speak with ease.

Even if you have diminished bone density in your jaw, you can still restore your smile with the all-on-4 method thanks to the long, angled implants we use. For patients who only want to stabilize one set of dentures on implants, whether for financial or other reasons, we recommend supporting the bottom arch with implants and continuing to wear removable dentures on the top. Call us today to inquire about all-on-4.