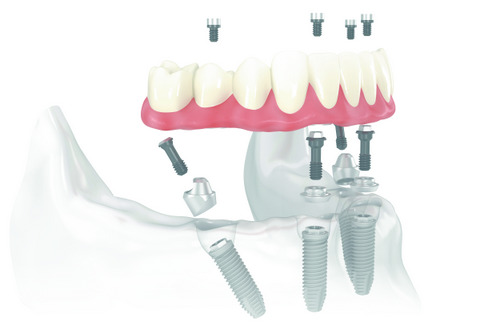 Anyone who is missing adjacent teeth can go with the viable solution of getting multiple tooth implants. Dealing with the aftermath of missing multiple teeth can take a toll on anyone. Not only do you have to face embarrassment when talking or smiling in front of others, but it is not healthy in many ways from an oral perspective.

Implant-supported restorative treatment is a permanent solution for replacing missing teeth. Unlike dental bridges or partial dentures, dental implants allow you to replace your missing teeth with artificially manufactured teeth that look and function just like natural teeth.

If you have lost most or all of your teeth and are looking for an alternative to dentures the

All-on-4 Treatment Concept

could be the right solution for you. At Mountain State Oral and Facial Surgery, our expertise in this area is second-to-none, helping you to obtain a jaw of fully-functioning teeth that not only look good but feel secure too.


What is the All-on-4 Treatment Concept?

The use of dental implants to replace just a single tooth has moved on considerably in recent years.

The All-on-4 Treatment Concept is one of the newest innovations which replaces all of the teeth in a single arch on just four dental implants.



If you are a wearer of full dentures you may want to consider the All-on-4, particularly if your dentures are uncomfortable or prone to moving. If you wear partial dentures but only have a few teeth left, the All-on-4 is still an option, but you will need to have your existing teeth removed. This can often be carried out at the same time as you have dental implants inserted as part of the All-on-4 procedure.


What Does the All-on-4 Procedure Entail?

The All-on-4 Treatment Concept is a surgical procedure that is a three-stage process. During the first stage, the planning and consultation phase is crucial in determining your suitability with appropriate tests and scans to assess your general health, and the health of your jawbone. The surgery is fairly simple, and it usually takes only a few hours. The 3D/CT scans taken at this stage are also used as templates for your oral surgery, pinpointing the exact position of where the dental implants should be placed. At this stage, impressions of your mouth are taken and sent to a laboratory where your new teeth are made-to-measure and available for fitting on the day of your treatment.

Once all of the planning is complete, a date will be scheduled for the procedure. It takes approximately two hours per jaw to insert the four implants and attach your new teeth. However, it could possibly take longer if you are having teeth extracted as well.

We will then remove the teeth that could interfere with the restoration, then address any infected or diseased gum tissue. After cleaning the area, we will then expose a tiny part of your jawbone and prepare the site for the implant. This will allow the implants to be precisely placed at an angle where they will not touch your sinus membrane (in the upper jaw) nor the inferior alveolar nerve (in the lower jaw). We will suture the incisions, then place your temporary teeth. This will leave you with a nice-looking smile the same day you enter our office.


The Recovery

As the technique is done in just one visit, you should be fully recovered within one to two weeks. You may experience minimal discomfort, swelling, or bleeding during the first day post-op, but they will gradually subside. We may prescribe you antibiotics to protect the surgical site from infection and give you instructions on how to keep the area clean. Your jawbone will naturally osseointegrate with the titanium roots in three to six months. When that happens, the temporary will be replaced with a final restoration, permanent one; made just for you.

If you are struggling with missing teeth, find out if the All-on-4 Treatment Concept is right for you. Schedule an appointment to find out about the All-on-4 Treatment Concept at Mountain State Oral and Facial Surgery by calling 304-345-1092 today.