Osseointegration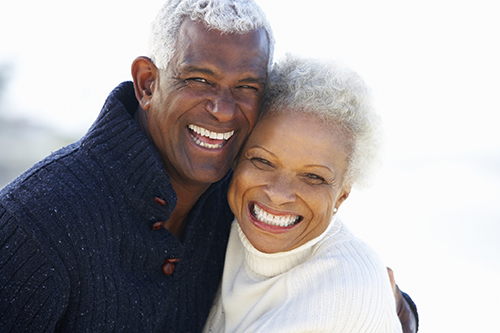 There are 178 million Americans who have lost at least one tooth and 40 million people who do not have any teeth at all. The most comfortable, long-lasting, and natural-looking replacement teeth may be achieved with dental implants. At Mountain State Oral and Facial Surgery, we can help you understand how dental implants work and how they can benefit your oral health for a long time.


What is Osseointegration?

The term "osseointegration" is made from the Greek word "osteon" which translates to "bone" and the Latin word "integrare" which means to "make whole." During a dental implant procedure, we will place a titanium replacement root in an empty tooth socket. The main purpose of this surgery is for the prosthetic implant to achieve tight-knit contact with the bones in your jaw. This will enable the implant to become firmly anchored to your bone and provide stability to the replacement tooth or the dental crown. Osseointegration occurs after a dental implant has been emplaced in the jawbone. During this process, the cells of your jawbone grow up around the implant surface to tightly secure it. This process can take anywhere from six weeks to six months to complete depending on your jaw health and overall health. After this period, the implant will have fully integrated to your jawbone. This process is the very same as the one that your body experiences if you experience a bone fracture. Osseointegration plays a vital role in joint replacement and facial reconstruction procedures. A dental implant is the next best thing to a natural tooth since it is embedded securely in your jawbone and looks, feels, and functions like a real tooth.


Jawbone Density and Its Impact on Osseointegration

When you lose your tooth, the part of the jawbone that receives stimulation from the chewing and biting activity of that tooth is resorped by the body. In a single year, you may lose as much as 25% of bone density in that area of your jaw. This will lower the quality and the quantity of the bone in your jaw. This can interfere with the process of osseointegration. A low-density jawbone may not have enough mass to firmly anchor the dental implant. If we place an implant on a weak jaw, it will not be able to integrate with your jaw leading to dental implant failure. However, this does not mean you will not be able to get a dental implant as a replacement tooth. We will perform a simple surgery, known as bone grafting surgery, that can augment the bone in your jaw so that it becomes healthy and strong enough to support a dental implant. A bone grafting surgery will take about three to six months, depending on the density of your jawbone. After your jawbone is augmented successfully, you can get a dental implant surgery.


Smoking and Its Impact on Osseointegration

People who smoke regularly will need to quit this habit if they want to get a dental implant surgery successfully. That's because the smoke from the cigarette can prevent the formation of good, strong bones during osseointegration. Instead, your jaw will be filled with fibrous tissues that are not strong enough to support a dental implant.


Schedule an Appointment With Us

The success rate of dental implants is between 88% and 98% and it all depends on how well osseointegration is achieved. A dental implant can provide you with a perfect replacement tooth for decades. If you are missing your teeth, we at Mountain State Oral and Facial Surgery can help you replace them with dental implants. Call us at 304-343-5161 to schedule an appointment with us.