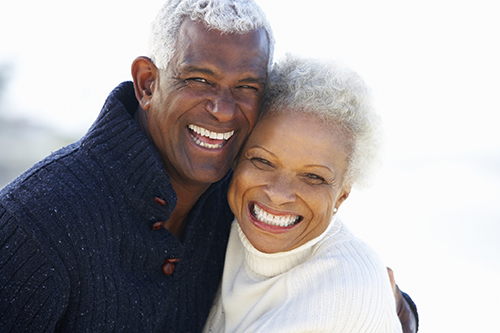 A smile is the first thing a person sees when we meet them. This makes many people self-conscious about the way their smile looks. They want their teeth to look perfect and their smile white. When they have considerable tooth loss due to decay or disease, it takes a toll on them. It will also take a toll on their appearance because without the supportive teeth the cheeks and lips will sag and make their facial features appear drawn. While dental implants are an excellent solution, providing artificial teeth and support for their cheeks and lips, it is not recommended for everyone. There are specific risk factors which can preclude some patients from getting the benefits of dental implants.

If you are considering dental implants, or have questions, you should contact us at our Vinton, VA office: (540) 790-6050 and schedule a consultation.


Who is a Candidate?
Anyone who maintains a good level of oral hygiene and has solid overall health is considered a good candidate. Also, patients who lack enough supportive bone mass are not good candidates, at least initially, which is unfortunate because implants can be used in any number of dental procedures. Fortunately, oral surgeries such as bone grafts and sinus lifts can be done to strengthen a patient's jawbone to prepare them for dental implants.
Are Dental Implants the Right Choice?
While many of the risk factors might make sense, some might surprise patients. As mentioned above not everyone is a good candidate for dental implants. One of the risk factors is age. This is simply because as we age, we slowly lose bone mass throughout our bodies, jawbones included. Also, anyone who has had radiation treatment may also suffer from diminished bone mass. Any patient who has low estrogen which can occur during menopause are not considered good candidates either. Those who abuse alcohol or who use tobacco products are not considered good candidates for the procedure. These factors do not necessarily mean the person cannot get dental implants, it merely means that with these risk factors certain precautions need to be taken in order to have a successful implant placement.
What Are Alternative Treatments?
While some patients might not be good candidates for dental implants due to lack of bone mass there are a couple of options available to them. One is known as mini-implants and as the name suggests, they are implants that are simply smaller. Due to their small size, they do not require as much bone mass. Another option is the treatment concept known as the

All-on-4® Treatment Concept

. With this option, the implants are not inserted vertically but at an angle. This means they do not require as much depth. Clear Choice Implants are also available.
Are There Non Invasive Options?

If none of the options available will be a good fit for the patient, then there are a few noninvasive options. One such option, implant supported dentures, uses the existing teeth to anchor the appliance rather than dental implants. This can be problematic simply because the teeth used to support the artificial teeth will have additional stress placed on them because they are supporting the additional structure. It can make them erode much quicker than normal. Some patients still prefer dentures to dental implants to restore their missing or extracted teeth. While dentures are not permanent, they are a tried and true tooth replacement that requires less time as well as cost.

Anyone considering dental implants should stop by our Vinton VA office to talk it over. There are many options available. We are at Mountain State Oral and Facial Surgery. You can also call us at (540) 790-6050.

Our office is proud to offer other restorative procedures including wisdom tooth removal!