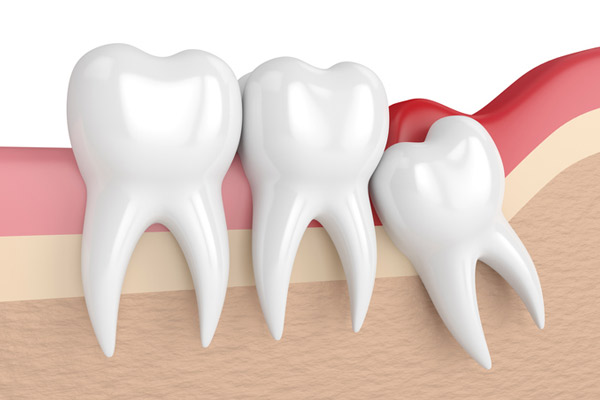 A permanent tooth is meant to last a lifetime, but in reality, you may be better off getting it removed. Damaged, weakened, or impacted teeth can be painful and may even increase your risk of certain complications. If you are worried you might need a tooth removed, but want to learn more about the procedure, the experts at Mountain State Oral and Facial Surgery are here to help.

There is no other oral surgery performed more regularly than wisdom teeth extraction. For many patients it is simply the best form of treatment to alleviate their symptoms and to preserve the alignment of the other teeth. Contact us at Mountain State Oral and Facial Surgery, at our Vinton, VA location today so we can properly assess your wisdom teeth to see if an extraction is needed.


Wisdom Teeth Eruption
When a wisdom tooth becomes impacted while trying to erupt, it is typically caused due to the lack of available space in the patient's mouth. In some cases, the eruption could be partial to where just a section is visible while in other cases it might never break through the gum and remain completely impacted. When this occurs, they need to be extracted before they disrupt the alignment of the other teeth.
Why Extract My Wisdom Teeth?

In those cases where the wisdom teeth fail to erupt, they will continue to do so even if there is limited space available. When this happens, it will seek the path of least resistance. This can mean trying to erupt at an angle which can damage not only the jawbone but nearby teeth which can cause a great deal of pain.

Some patients may have them erupt at such a severe angle that the teeth can actually appear perpendicular in the x-rays. In extreme cases, the wisdom teeth have been known to erupt through the roof of the mouth simply because there is no other place for them to go.


What Happens During the Procedure?



Before we begin, we will first numb the area around your tooth which is to be extracted. Then, we will gently move the tooth back and forth to create room for it to be taken out. Feeling pressure, and possible discomfort during the procedure, is common. However, you should not feel any pain.

Usually, the tooth can be pulled out right away; this is referred to as a simple tooth extraction.

There are times, however, especially with wisdom teeth, where the tooth must be cut into sections and taken out. This is called a surgical extraction.

After your tooth extraction is completed, you need to be gentle to your teeth and follow the simple but specific care instructions provided by us.

At Mountain State Oral and Facial Surgery we are determined to help you and your mouth and teeth stay healthy. If you would like to make an appointment with us or learn more about

wisdom tooth removal

or any of our other restorative services such as dental implants, please do not hesitate to call us at our Vinton, Virginia office at (540) 790-6050 today.